Filter by Category
Actor's Conservatory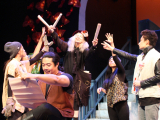 Acting Session III
with Dom Magwili

May 11, 2020 at 6:30 pm

, runs for 10 weeks
Of the three acting sessions, this is the most involved.  This class answers the question "Now, that I've been cast in a show, what do I do?"  Not only will students continue working the lessons of the previous classes, they will be applying them to an entire play.
Session III promises not only a rehearsal schedule and a basic production show, but it will include a teaching component.  The instructor will be using the entire process as a teaching opportunity that is both personalized and informative. There will be explanations and commentary on the rehearsal event.
This is a culmination of the first two sessions in that not only are the fundamentals of acting introduced but the scene/monologue work expands to consider the circumstances of an entire stage play.
There will be one show.  It is meant to focus on the acting.  So, it will be done under work lights. There will be some costume and some props.
This is an excellent opportunity for beginning actors to involve themselves in the production experience in a safe environment.  For experienced performers this will continue to hone their skills in a scheduled show.
The casting and play are to be determined.
Payment plan available: $100 deposit plus 2 payments of $125.00, paid monthly.