Filter by Category
Our Classes
Writing a Television Pilot: ONLINE
with Teresa Huang

Apr 8, 2020 at 7 pm

, runs for 10 weeks
The world is experiencing a golden age of television, with TV series attracting millions of eyes and capturing our hearts and attention more than ever before.  TV is also making huge strides in representation and inclusion, providing opportunities for diverse stories to be told in settings and situations never before seen. Writers have permission like never before to tell authentic stories from their own experience and introduce audiences to new worlds and characters. This eight-week class is for new to intermediate writers who are interested in writing a half-hour or hour-long original television pilot script.  Students will learn the fundamentals of developing a series concept with a strong story engine, creating a world with a specific tone and compelling characters, the basics of pilot story structure, and begin writing their original pilot script.  
This class will be taking place via Zoom. A link will be sent before the first class. Maximum of 10 students.
No sessions on April 29th and May 20th.
ABOUT THE INSTRUCTOR:
Teresa Huang was raised to be a doctor but born to be an artist.  A genuine MIT graduate, she gave up problem sets and thermodynamics to become a writer, actor, and producer. Her parents are still scratching their heads.  Teresa created and developed the one-hour drama THE BIG KAHUNA with CBS Television Studios and her original pilot CHILDREN OF EDEN was a Finalist in the Script Pipeline TV Writing Competition.  Teresa is a graduate of the CBS Writers Mentoring Program, the CAPE New Writers Fellowship, and was named a WGA TV Writer Access Project honoree.  She was most recently a Staff Writer on SEAL TEAM on CBS.
Full Course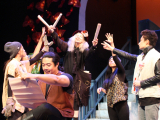 Acting Session III
with Dom Magwili

May 11, 2020 at 6:30 pm

, runs for 10 weeks
Of the three acting sessions, this is the most involved.  This class answers the question "Now, that I've been cast in a show, what do I do?"  Not only will students continue working the lessons of the previous classes, they will be applying them to an entire play.
Session III promises not only a rehearsal schedule and a basic production show, but it will include a teaching component.  The instructor will be using the entire process as a teaching opportunity that is both personalized and informative. There will be explanations and commentary on the rehearsal event.
This is a culmination of the first two sessions in that not only are the fundamentals of acting introduced but the scene/monologue work expands to consider the circumstances of an entire stage play.
There will be one show.  It is meant to focus on the acting.  So, it will be done under work lights. There will be some costume and some props.
This is an excellent opportunity for beginning actors to involve themselves in the production experience in a safe environment.  For experienced performers this will continue to hone their skills in a scheduled show.
The casting and play are to be determined.
Payment plan available: $100 deposit plus 2 payments of $125.00, paid monthly.
How Do I....?
with Jennifer Chang

Jun 6, 2020 at 10 am

, runs for 4 weeks
A 4 week mini-course in business and personal development.  All disciplines welcome.  
Are you trying to figure out new practical strategies for your passion?  Are you trying to figure out how your art fits into your life? Maybe you are simply trying to figure out what you are most passionate about?
Let's begin with the end in mind.  Over the course of 4 weeks,  we will do exercises in goal setting, mission statements, interviewing/ auditioning, and take a look at your current materials (headshots/ resumes etc and provide supportive feedback for working forward.  We will work towards an achievable goal/ project in a supportive group environment.
Week 1 – Who Are You?  Mission Statements, Goal Setting, discussing your project
Week 2 – Materials – Let's look at what you have, and what you want to have – Feedback, strategies and approaches
Week 3 – Practice – Interviews/ Auditions.  How to walk in a room. What is networking?
Week 4 – Project Presentation – Homework during the course: You will work towards the presentation of this over the 4 weeks as decided at week 1.  Is it a new reel?  Headshots and Resumes?  Website? Portfolio? Notes given so that you can launch at the conclusion of the course.
Instructor Bio:
Jennifer is a director, actor and educator.  She won the 2019 LADCC Award in Direction for the LA Premiere of VIETGONE by Qui Nguyen at East West Players.  She was a 2018 Drama League New York Directing Fellow and directed the world premiere of Mara Nelson-Greenberg's THE CLITORISH at the New Ohio Theatre in NYC and was the Assistant Director of the Broadway World Premiere of Theresa Rebeck's BERNHARDT/HAMLET starring Janet McTeer. Most recently she directed WHERE THE MOUNTAIN MEETS THE MOON at South Coast Rep, and HANNAH AND THE DREAD GAZEBO for The Fountain Theatre in association with EWP.  She is a founding member of Chalk Repertory Theatre, a site-responsive theatre company dedicated to exploring classic and new work, where she served as Artistic Producing Director and continues to produce, direct, and act in numerous projects.  Her work with the company has been honored with an Ovation Award, an LA Weekly Award and the Stage Scene LA award. She continues to serve on Chalk Rep's Artistic Circle.  Other directing credits include ANIMALS OUT OF PAPER by Rajiv Joseph at East West Players (LA Times Critics Pick), EDITH CAN SHOOT THINGS AND HIT THEM for Artists at Play (GLAAD Media Award, Stage Scene LA Award Best Director, Ovation Award Nominated) and OUR AMERICAN STORY and RESIDENCE ELSEWHERE (commissioned for the 75th Anniversary of Executive Order 9066) at the Japanese American National Museum. She loves developing new plays and has done so with The Geffen Playhouse, the Chance Theatre, Echo Theatre Company, Circle X Theatre Company, EST-LA, Playwrights Arena, Chalk Rep, and East West Players and is an alum of Director's Lab West. Other: 2020 APAFT Award Outstanding Direction.  She is the Head of Undergraduate Acting at UCSD's Department of Theatre and Dance and just finished a year as a Visiting Professor at Pomona College.  She has taught in the conservatory at the East West Players, guest directed at USC, and was a guest artist, at Texas State University, San Marcos for the Black and Latino Playwrights Conference. She is a member of the Stage Directors and Choreographer's Society (SDC), Screen Actors Guild (SAG-AFTRA), and Actor's Equity Association (AEA). Ms. Chang received her M.F.A. from UCSD and her B.F.A with Honors, double majoring in Psychology, from New York University's Tisch School of the Arts, having studied at the Experimental Theatre Wing and Playwrights Horizons. www.changinator.com